La Distrib – le journal occasional des P'tits déjeuners solidaires
La Distrib gathers and "distributes" the words, daily reports (comptes-rendus), and exchanges that intersect at the free breakfast distribution, known as the P'tits déjs solidaires, which takes place on a daily basis in the La Chapelle/Stalingrad district of Paris. Open to all, like the breakfasts, and concerned to find ways beyond "the minimal necessities" to build new coalitions and collective possibilities, La Distrib aims to be non-hierarchical and vibrant. It limits the use of photographs in favour of the collective forms of expression that stem from drawing-writing-dancing workshops, as well as from more structured exchanges such as interviews and group conversations. It is supported by a much-appreciated grant from the Syndex Foundation and appears on a 3-4-month cycle.
La Collection Numimeserian @ La Bibliothèque publique Václav Havel
La Collection « NUMIMESERIAN » ou il ne faut pas négliger les petites choses
Un projet épisodique (2017-2019) qui a regroupé très provisoirement et plus durablement beaucoup de participants d'horizons variés.
"On était une dizaine de personnes autour de la table à la bibliothèque Václav Havel. Le projet était de fabriquer des livres qui feraient entrer dans les fonds de la bibliothèque les expériences de ceux et celles pour qui ce lieu offre un refuge inestimable dans une existence faite trop souvent des difficultés et des violences de la rue et des procédures administratives de la demande d'asile. On a commencé avec le choix du titre et un des participants a tout de suite proposé le mot « numimeserian » puis il a expliqué que ce mot signifie le soin qu'on doit prendre « des petites choses » et parfois « des gens ». Ces livres sont de « petites choses » et la bibliothèque Vaclav Havel les accueille comme elle accueille ses usagers, avec soin, pour qu'ils puissent rester et trouver une place dans ce fonds de l'accueil, notre archive de l'avenir à tous."
La collection est dorénavant catalogué dans la base de la collection de la Ville de Paris, consultable sur place et en principe disponible pour emprunt. Elle comprend une vingtaine d'ouvrages de format différent. Elle a été l'objet d'une exposition au printemps 2019, à la Bibliothèque Václav Havel. Et elle forme la base d'un chapitre paru dans le volume collectif In-Between. Hybridations des pratiques artistiques et nouveaux formats de la recherche, dir. Manola Antonioli, Florian Bulou Fezard et Gwen Rouvillois (Éditions Loco, 2022).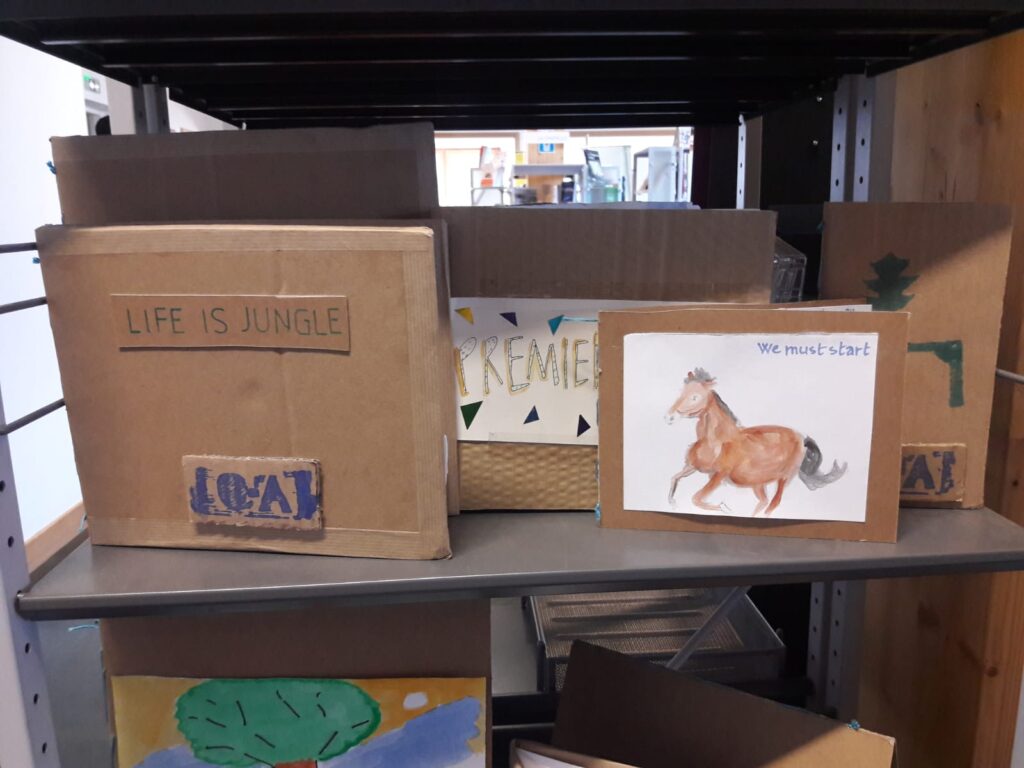 Here I am, There I go (a 2016 project for the Being Human Festival)
This was a Paris-London collaboration using poetry and printing which explored processes of translation and re-purposing of written and photographed material to bring together people who had tried and managed, or tried and failed, to cross the English Channel.